From Design To Delivery
Design | Automation | Fabrication
FROM DESIGN TO DELIVERY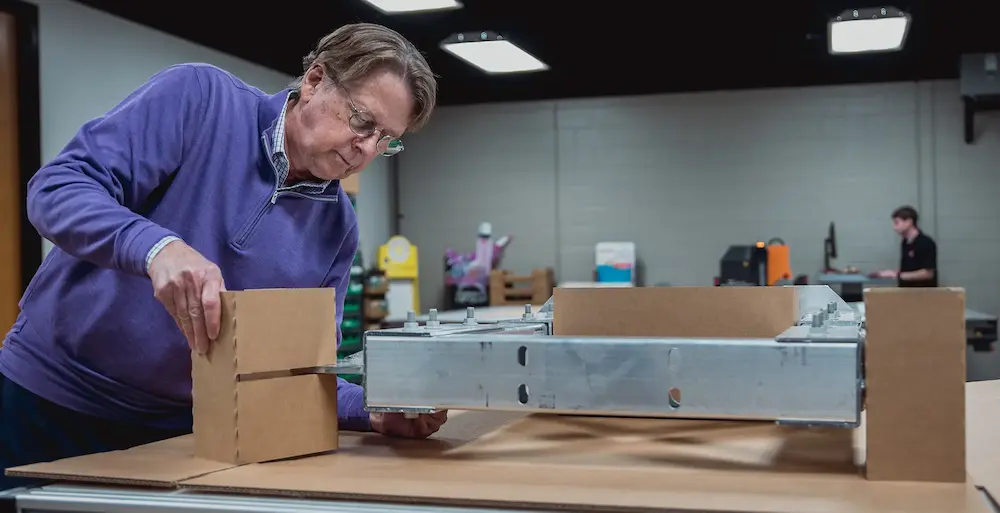 From design to delivery, we unbox your packaging potential so you can focus on success. We value people over profit in everything we do. That's the bottom line. We've dedicated over 60 years to supporting and growing our customers, employees, and local communities. From graphical to structural packaging design, supply chain automation, kitting and fulfillment, and more – collaboration is the key to our success.
How We Collaborate
Packaging shouldn't be just another step in the process. When you partner with Morrisette Packaging, you become a part of our family. Our unique approach to custom packaging and automation involves you every step of the way, from design to delivery. Our talented team will work with you to understand your needs, process, and end goal. We specialize in custom packaging design, supply chain evaluations, and identifying the right solution based on your needs. From custom packaging design to specific supply chain automation needs, we work alongside your team to identify new opportunities for success. Morrisette Packaging remains material neutral. We utilize our extensive network to source the best materials for your custom packaging application.
Connecting

There's no up-front cost to engage our services. Whether it's custom packaging design, sustainable packaging needs, or the desire to reduce material costs, we are ready to assist. At Morrisette Packaging, we are your partner in the packaging process – from design to delivery.

Analyzing

We do the heavy lifting for you upfront. Our unique program, the Morrisette Packing Review (MPR), helps you understand your company's Total Cost of Ownership (TCO), which allows you to control costs across your entire supply chain by assembling the right team of experts that will effectively evaluate and diagnose your processes and reduce TCO.

Designing

This is where the real fun starts. Once our skilled team has completed the audit, the design phase begins. We work with you directly to create custom packaging and supply chain solutions. Collaborating as partners, we ensure your team is involved in the approval and implementation steps so that you can seamlessly integrate your customized solutions into your operation.

Implementing

Now we get to see our hard work in action. Once your team has signed off on the design solutions, our team turns to our extensive network of providers, in-house experts, and best-in-class technicians to ensure that your tailored solutions are implemented accurately and within a timeframe that works best for you.

Maintaining

At Morrisette Packaging, we love it when a plan comes together. However, we recognize that a project isn't complete as soon as your solutions have been implemented; that's why our team remains a constant partner by turning our focus to reviewing the ongoing results of what we built together. We make recommendations along the way that will save you money and guarantee that your new solutions remain efficient over time – your success is our success, too!

Start Your Journey
Your Success Is Our Success.
Piedmont Pennies – A Food Packaging Success Story
Piedmont Pennies Founder and CEO Becca Wright sat down to tell her start-up story and share how custom food packaging from Morrisette Packaging helped increase her visibility, branding and ability to scale at her own pace.
"They showed me the art of the possible."
– Becca Wright, Piedmont Pennies